Matt Wand
Though it is not 'arcadian' in any real sense it could perhaps be construed as an "audio journey", plus it vaguely relates to the cassettes hinted at in the Arcadian story. What is it? Well it's a slightly more contemporary episode in something I have been doing since 1988, i.e. split channel cassette recordings compiled (originally) onto cassettes with completely separate tracks on the left and right channel , no start times synchronised etc. These have always been part of my live performance set up with 2 cassette players (i.e. 4 channels of sound) playing into a "tape switchboard" which is 4 momentary buttons that only let the sound through when held down, thus allowing me to cut-up sounds randomly into a live sampling set up and then manipulate the 4 second 'grabbed' collage further .
These were never intended to be listened to as they stood, just fodder for feeding into the machines. The ones from the 80's & 90's were generally manipulated records/found sounds so have a lot of vaguely recognisable though obscure material etc. This one here is one of a few I made to supplement those older tapes in 2011 as prep for a live performance with The Tony Oxley Quartet to be broadcast on SWR radio.
In this case it is all material generated or recorded by myself and no longer run from cassettes but from MP3 players, the material (including the older tapes transferred to digital) is usually divided up into 1 minute sections to allow further randomisation via 'Shuffle mode' (cf: Stock, Hausen & Walkmans first CD "Giving Up). Though entirely unintentional, in retrospect it seems the material is quite an 'interesting' listen, very much an 'audio journey' and maybe reminiscent of drifting through obscure radio channels via the Short Wave ether? Shuffle mode might enhance that feeling further? I have chosen to keep it as 'found', it's already pretty abstract as is.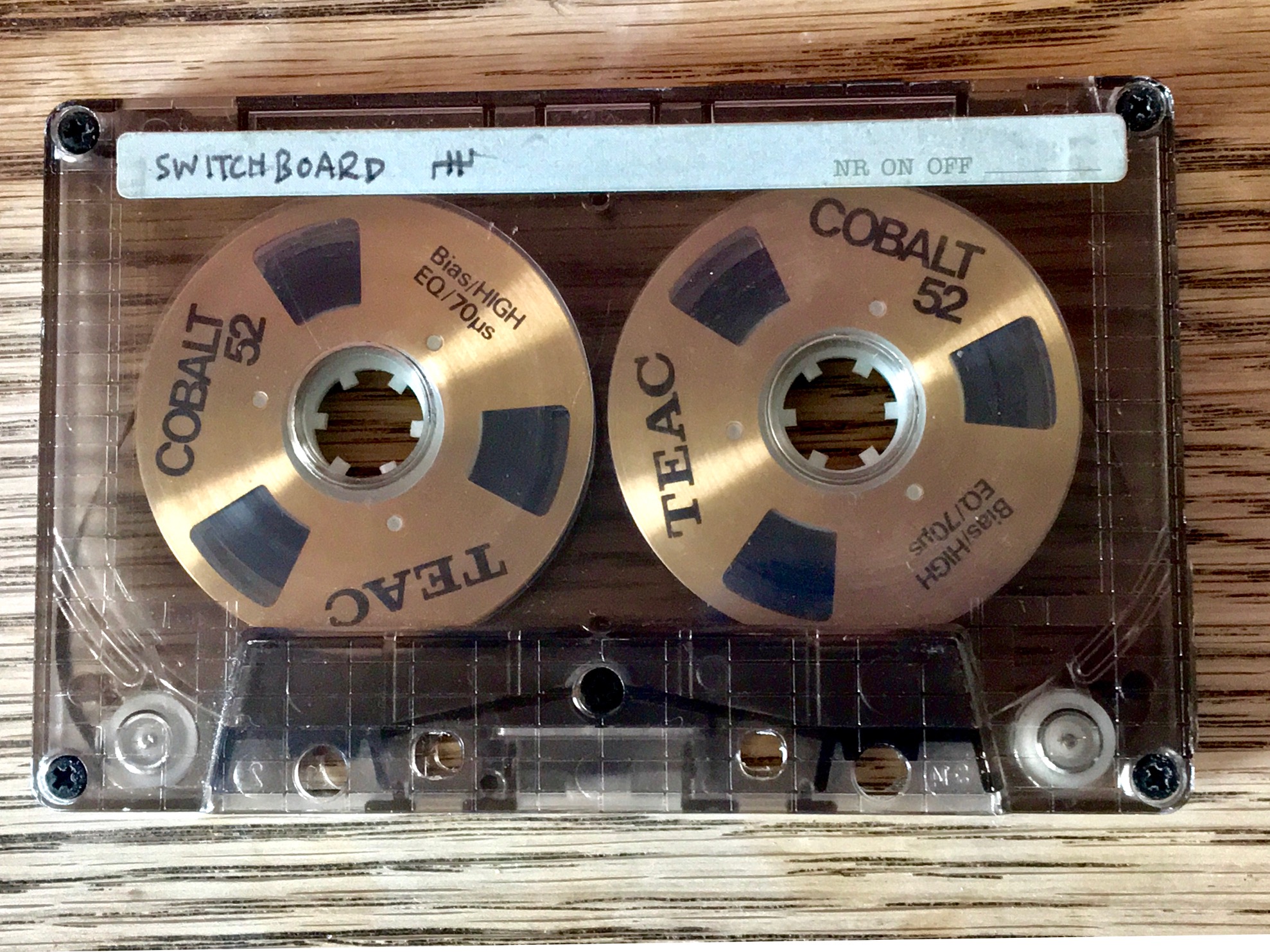 https://hot-air.bandcamp.com/
Split L/R tapeswitchboard cassette (60mins)



Obwohl es nicht "arkadisch" im eigentlichen Sinne ist, könnte man es vielleicht als eine "Audio-Reise" auffassen, außerdem bezieht es sich vage auf die Kassetten, die in der arkadischen Geschichte angedeutet werden. Was ist es? Nun, es ist eine etwas zeitgemäßere Episode von etwas, das ich seit 1988 mache, nämlich Split-Channel-Kassettenaufnahmen, die (ursprünglich) auf Kassetten mit komplett getrennten Spuren auf dem linken und rechten Kanal kompiliert wurden, ohne synchronisierte Startzeiten usw. Diese waren immer Teil meines Live-Performance-Setups mit 2 Kassettenspielern (d.h. 4 Tonkanäle), die in ein "Tape-Switchboard" spielen, das aus 4 momentanen Knöpfen besteht, die den Ton nur durchlassen, wenn sie gedrückt gehalten werden, was mir erlaubt, Klänge nach dem Zufallsprinzip in ein Live-Sampling-Setup zu schneiden und dann die 4-Sekunden-"gegrabbte" Collage weiter zu manipulieren.

Diese waren nie dazu gedacht, so wie sie standen, gehört zu werden, sondern nur als Futter für die Maschinen. Die Aufnahmen aus den 80er und 90er Jahren waren in der Regel manipulierte Schallplatten bzw. gefundene Klänge und enthalten daher eine Menge vage erkennbares, wenn auch obskures Material usw. Dieses hier ist eines der wenigen, die ich 2011 als Ergänzung zu diesen älteren Bändern gemacht habe, als Vorbereitung für eine Live-Performance mit dem Tony Oxley Quartet, die im SWR-Radio gesendet werden sollte.

In diesem Fall handelt es sich um alles von mir selbst generierte oder aufgenommene Material, das nicht mehr von Kassetten, sondern von MP3-Playern läuft, wobei das Material (einschließlich der älteren Bänder, die ins Digitale übertragen wurden) in der Regel in 1-Minuten-Abschnitte unterteilt ist, um eine weitere Randomisierung über den "Shuffle-Modus" zu ermöglichen (vgl.: Stock, Hausen & Walkmans erste CD "Giving Up"). Obwohl völlig unbeabsichtigt, scheint es im Nachhinein so, als ob das Material ein ziemlich "interessantes" Hörerlebnis ist, eine Art "Audio-Reise", die vielleicht an das Driften durch obskure Radiokanäle über den Kurzwellenäther erinnert? Der Shuffle-Modus könnte dieses Gefühl noch verstärken? Ich habe mich dafür entschieden, es als "gefunden" zu belassen, es ist schon ziemlich abstrakt, so wie es ist.



Bio

Matt studied 'Audio Visual Design & Communication' (81­84) under John Jordan (sound man for both Stanley Kubrick & Anthony Balch). As a sound designer, composer and inveterate collaborator he has worked with a number of 'Reputable' artists and directors such as Jeremy Deller, Rosa Barba, Janet Hodgson, Neil Bartlett O.B.E., Andrew Kötting, Hayley Newman, Rachel Goodyear, Andy Plant, Brass Art, Mika Taanila, Christian Marclay & Chris Haughton. From 1991 to the present day he runs the Independent Record Label HOT AIR , designing all of the 'Stubbornly Non­Generic for the time ' packaging and overseeing production, marketing & distribution on top of contributing some of it's more successful releases under various pseudonyms. Previously he formed & named the seminal electronic improvising group Stock, Hausen & Walkman, touring many countries of the world with them and has worked as an electronic musician with many of the renown improvisers from the free music scene and avant­rock crossover territory He continues to perform live music solo and with some of the younger generation of free music & electronic improvisers and tours intermittently with his trios "Tree Fellers". Radio commissions include ambitious 5.1 surround sound 'hörspiel' for the German SWR2 broadcast station. "Sackgasse im Himmel" based on 'inflight' spiritualist entertainment on board a Zeppelin ­adapted with 3d visuals for installation in the Zeppelin Museum, Friedrichshafen Feb­May 2015. "The Judas­Ear" featuring Phil Minton, broadcast SWR2 Ars­Acustica 3rd May 2016 and "Haltet die Eisschranktür Geschlossen" a concrete look at 'social media' politics via the Covid Lab­Leak hypothesis ­ SWR2 March 2nd 2021.


Matt studierte 'Audio Visual Design & Communication' (8184) unter John Jordan (Tonmann sowohl für Stanley Kubrick als auch für Anthony Balch). Als Sounddesigner, Komponist und eingefleischter Kollaborateur hat er mit einer Reihe von 'renommierten' Künstlern und Regisseuren wie Jeremy Deller, Rosa Barba, Janet Hodgson, Neil Bartlett O.B.E., Andrew Kötting, Hayley Newman, Rachel Goodyear, Andy Plant, Brass Art, Mika Taanila, Christian Marclay & Chris Haughton zusammengearbeitet. Von 1991 bis heute leitet er das Independent Record Label HOT AIR, entwirft alle Verpackungen für "Stubbornly NonGeneric for the time" und beaufsichtigt die Produktion, das Marketing und den Vertrieb und trägt unter verschiedenen Pseudonymen zu einigen der erfolgreichsten Veröffentlichungen bei. Zuvor gründete er die bahnbrechende elektronische Improvisationsgruppe Stock, Hausen & Walkman, mit der er durch viele Länder der Welt tourte, und arbeitete als elektronischer Musiker mit vielen bekannten Improvisatoren aus der freien Musikszene und dem Avantrock-Crossover-Territorium zusammen. Er führt weiterhin Live-Musik solo und mit einigen der jüngeren Generation freier Musik- und Elektronik-Improvisatoren auf und tourt gelegentlich mit seinem Trio "Tree Fellers". Zu den Radioaufträgen gehört das ambitionierte 5.1 Surround Sound "hörspiel" für den deutschen Sender SWR2. "Sackgasse im Himmel", basierend auf der spirituellen Unterhaltung an Bord eines Zeppelins, adaptiert mit 3D-Visuals für die Installation im Zeppelin Museum, Friedrichshafen, FebMai 2015. "The JudasEar" featuring Phil Minton, Sendung SWR2 ArsAcustica 3. Mai 2016 und "Hält die Eisschranktür Geschlossen" ein konkreter Blick auf 'social media' Politik über die Covid LabLeak Hypothese SWR2 2. März 2021.